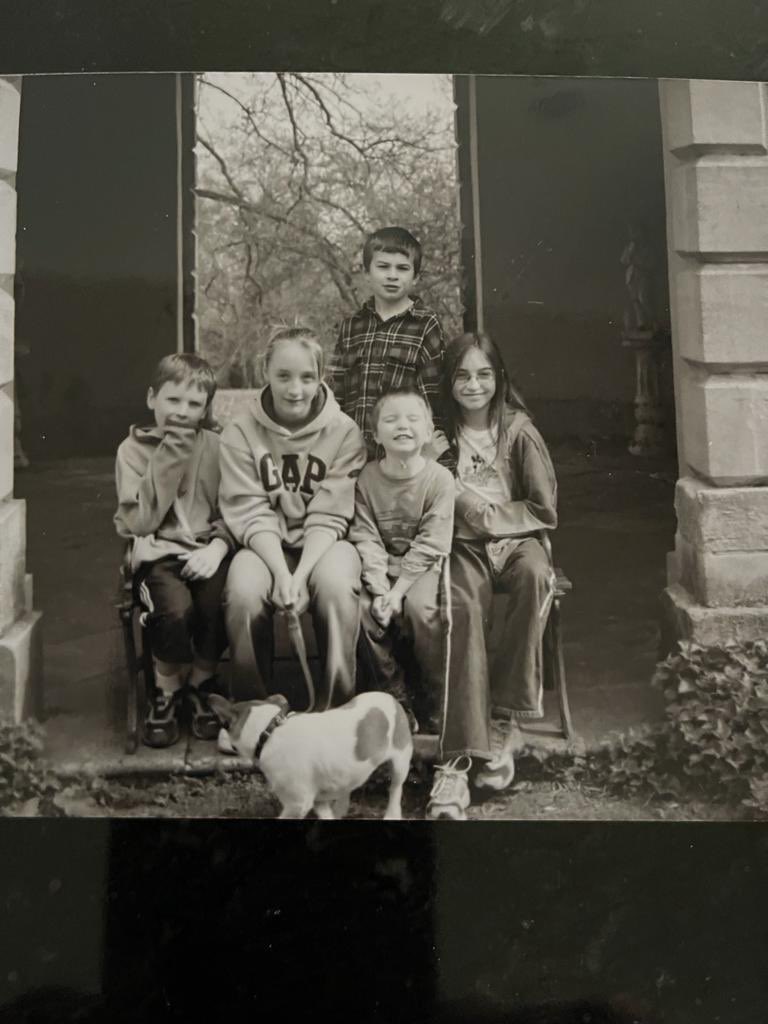 My mate Fran sent a copy of this photo taken on a walk just outside the ring road near Headington. A formal, staged, Victorian looking photo from days of old. Rosie, Mary, James and Tom arranged on a bench, Connor standing behind, framed by a dramatic doorway. A statue on a pedestal in a darkened corner.
I think I must have taken it. Franny doesn't do black and white.
I remember that day, the tromp through the publicly accessible grounds of some stack that sits alongside the A40. Before the public toilet and burger van layby. Spitting distance from James and Connor's school. About 2 miles from where we lived. It was the only time we went there.
I study the photo. Repeatedly. You do when you receive treasure. An image so full of detail it creates space to remember forgotten stuff. I pore over the faces, expressions, bodies, positioning, closeness, haircuts (pre or post the nit years), clothing. And magic.
I think about the walk. Meeting up at Shotover, inconsequential jibber jabber, admonishing Stan, chivvying and chatter. Coming across the folly. And a photo opp…
'Hey, on the bench!'
Pre-smart phone anti-spontaneity. A moment of orderliness and patience. Recognition that stillness was required.
Rosie holding Connor's arm and hand with practiced and easy affection. Mary in charge of Chunky Stan, James nestled beside her, his sleeve in his mouth. Tom cheesing it. Connor with his characteristic quizzical expression, eyebrows down, a slight chew of his left cheek. He was growing into life still. Sense making and trying to make sense of the incomprehensible. Which would eventually kill him.
Stan was working up to his Mydaftlife cover photo paw fame.
A moment captured. Happiness on an afternoon out in the school holidays.